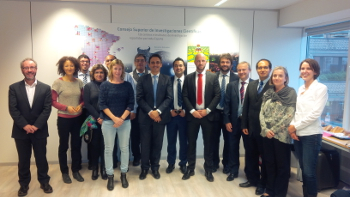 The past 9th and 10th November, the kick-off meeting of the H2020 European project NANOTUN3D took place in Brussels. The meeting was attended by representatives of the 9 members of the consortium from Belgium, United Kingdom, Germany, Italy and Spain.
The aim of the project that now begins its journey, is to produce and use a new Titanium alloy nanomodifed, to be used by additive manufacturing technology in special applications.
During the meeting, AIMME, as leader, explained the objectives of the project to all partners, and the results to be achieved and deadlines to achieve each milestone.
The consortium, which consists in a set of companies, organizations, researchs centers and universities from 5 European countries, will work over 42 months to reach the objectives: UPV, LAURENTIA, CEIT, VITO, TLS, ZOZ, TWI , APR and AIMME. In addition to the representatives of the aforementioned entities, at the meeting participated also the officer assigned by the European Commission, whose mission is to ensure compliance with the provisions of the project report as well as assist in resolving  administrative doubts nature which may arise as they develop the work.
The project was approved in the call for "Nanotechnologies, Materials and Advanced Manufacturing" in the Horizon 2020 program of the European Union, closed last March.