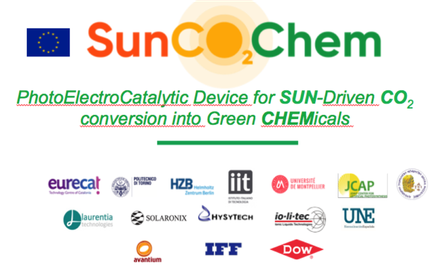 On October 23, the first general meeting of the new EU H2020 SunCoChem project will take place.
SunCoChem addresses the need of the EU chemical industry for highly competitive and integrated solutions enabling the carbon-neutral production of high-value chemicals from solar energy, H20 and CO2.
A "tandem photoelectrocatalytic reactor (TPER)" will be developed on a TRL 5 scale; the reactor has an innovative approach thanks to 4 different processes:
CO2 selective capture from flue gases or from the atmosphere by permeable membranes and its selective concentration in ILs;
photocatalytic water oxidation (anode reaction);
photoelectrocatalytic CO2 conversion to CO2 and H2 (cathode reaction);
in-situ CO carbonylation to oxo-products (at cathode surface);
SunCoChem will have an important impact in reduction of the dependence of the European Chemical Industry (ECI) on carbon feedstock.
LAURENTIA TECHNOLOGES, as partner of the project, will collaborate in the development, engineering and scale up of photo-catalysts for anode and cathode electrodes in the TRL3-TRL5 prototypes.
The partners of the project: Fundacio Eurecat (Spain); Politecnico di Torino (Italy); Helmholtz-Zentrum Berlin fur Materialen un Energie (Germany); Fondazione Istituto Italiano di Tecnologia (Italy); Centre National de la Recherche Scientifique CNRS (France); Solaronix SA (Switzerland); Avantium (Netherlands); Laurentia Technologies SLL (Spain); Iolitec Ionic Liquids Technologies (Germany); HYSYTECH (Italy); Dow Chemical Iberica SL (Spain); IFF Benicarlo SL (Spain); Associacion Espanola de normalizacion (Spain); Diethnes Panepistimio Ellados (Greece).
Link: https://suncochem.eu/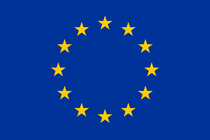 Funded by the Horizon 2020 programme
This project has received funding from the European Union's Horizon 2020 research and innovation programme under grant agreement No. 862192. This website reflects only the author's view and the European Commission is not responsible for any use that may be made of the information it contains